Cocobolo Rosewood Acoustic Guitar Backs And Sides!!! Luthier Tonewood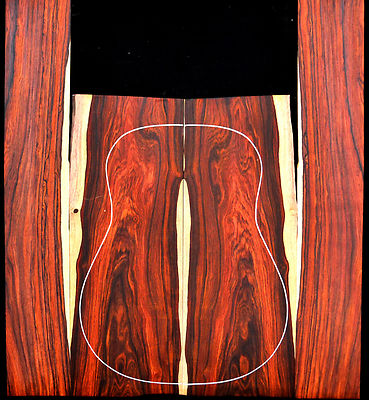 Mexican Cocobolo Acoustic Backs and Sides
Cocobolo (dalbergia retusa) is the absolute closest thing to Brazilian
Rosewood (dalbergia nigra) you will find.
It's beauty and tonal qualities are the second to none.
When first cut, the wood appears a beautiful violet/purple color.
The heartwood quickly turns to a red, burnt orange, brown with black lines through out.
The patina is wonderful, however a UV resistant finish may be a consideration.
It is VERY rare to find musical instrument quality Cocobolo
Our inventoy is dwindling and sadly we won't be able to replace this wonderful wood
VERRRY Soon it will be a memory
Not many of these sets left
Backs: .165 x 9 x 24
Sides: .125 x 5 1/8 x 32 1/8
set #547
more cocobolo at our website
http://superiortonewood.com/
ALL OF OUR COCOBOLO HAS BEEN LEGALLY IMPORTED OVER A DECADE AGO!